So school hit me like a ton of bricks. Anyone else?
I mean the first couple of weeks were fine, but then it was like ha, just kidding, feel the wrath of stress slowly encapsulate you, so it's safe to say that I'm still getting into the swing of things (like having a proper sleeping schedule) but so far, no fatalities! That's good, right?
I think I'm going to be extremely busy this year, but of course I will still make time for all the readings and writings because that is obviously superior to homework and tests. That being said, let's get into the book march!
Presenting… The Book March of September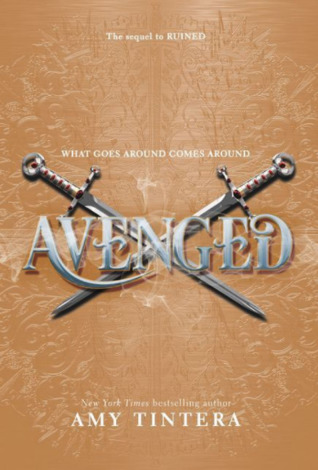 Can I just say that it took me freaking forever to finally finish Avenged. Not because I didn't enjoy it, mind you, but I felt so unmotivated to read the fantasy things that it was a very slow process. The actual quality of the book was really great, but I think the way I read it (or didn't) put a downer on the experience.
I have been in such a contemporary kick lately it's not even funny… mostly because my wallet cries every time I buy another hardback. But I need all the contemporaries.
The Haul
I bought more books this month! What a surprise. I would like to thank BookOutlet for catering to my cheap book needs. Of course the week after I hit that "Confirm Order" button (or whatever it's called) my dad finds a coupon for $5 off. I could pay for shipping with that! And now there's that Booktoberfest sale. *Sigh* Anyways, here's the list of books I've most recently acquired. Does anyone else just really enjoy opening packages because those are always the highlights of my days.
Tower of Dawn – haven't even read Empire of Storms yet, whoops. But I had to get that $20 Indigo exclusive edition, am I right?
The Darkest Minds – honestly, I got this book in anticipation of the movie because I do not want to be left out on that train. But I've heard fantastic things about the whole trilogy and I really want to see what all the hype's about.
Dreamology – I've been wanting to read this book ever since I heard of it way back last year(?) the year before(?) because the premise sounds like so much fun. Mix that in with a BookOutlet spree and the mood for all the contemporaries and you get me adding Dreamology to my (theoretical digital) cart.
When Dimple Met Rishi – I have heard nothing but great things about this book and when I saw that $9.99 I knew I'd been putting off buying it for a reason. Still doesn't explain why I don't have Eliza and Her Monsters though…
The Fill-In Boyfriend – after finishing Lucky in Love (review to come, late as it is) I just needed more Kasie West and I think this is one of the more popular ones(?). Either way I am excited and so ready to read it.
Book Boyfriends of the Month
I have yet to decide if this segment is actually just incredibly embarrassing or if it'll eventually amount to something. Let's hope for the latter. In any case, I'm continuing for now, if only for the fangirl in me to have some kind of outlet.
Ethan Quinn – I'm hesitant to put him on here since I've known him for so long and love him more like a brother than anything… but he was one half of my first otp (do people still even use that anymore? I feel like I haven't heard it in a while) and he is a book boyfriend so I'll let him hang out with the other Greats.
Seth Nguyen – I. Love. Him. I am in the middle of writing my Lucky in Love review (which may end up being a total mess- the jury's still out for that) and let's just say he's completely wonderful.
(Monsieur) Etienne St. Clair – something about his name makes me feel like it desperately needs a "Monsieur". This is a no-brainer- St. Clair is one of the most charismatic people around. I feel like we need more like him. Plus, he's #flawed. He has fears. He makes the wrong decision sometimes. He's… human?! (Exposed)
The Writings
I am taking my first creative writing class in school! (*cue applause*) It's a good time because all I need to do when I go to class is sit and read and write. So I'm working on a bit of a story there, not to mention desperately trying to lessen my TBR load and reach my Goodreads challenge goal. It's slow going, but I am (very very slowly) making progress in my writing project of the moment. I hope this one will last. Does anyone else find themselves giving up not even halfway through a story, either because they're bored of their words or unmotivated with a lack of creativity? Because that is me. All. The. Time. This is why more often than not I end up writing "scenes" rather than fully flushed out stories. I think I may have a slight fear of commitment when it comes to writing projects (and tv shows with a lot of seasons @ Gilmore Girls) but I really like my story so far and the potential I see for it so I'm keeping my fingers crossed that I'll be able to push through and just get the thing down on paper. Or computer screen.
So that was my literary month in a nutshell. I promise that first review is coming as soon as I find a moment to actually, you know, write it. See you soon (hopefully)!